Annual Cocktail Party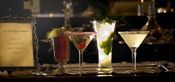 Our annual cocktail party took place at the RAC Club Pall Mall on 12th October 2017
Please follow this link for more information
Children's Adventure Farm Trust
We received this thank you letter following a recent donation.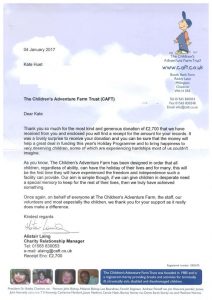 Our life president, David Hall, recently celebrated his birthday.
We wish him many happy returns.
Senior Ombudsman to address the Association
Sean Hamilton. MBE. Senior Ombudsman from the Financial Ombudsman Service (F.O.S) will be a speaker at the next member meeting. He will speak on the following topics.
a) anecdotal evidence of the first 6 months of the new complaints rules i.e. has there been any change in volumes of cases, type of cases, re-occurring complaints being reported;
b) a review of some of the issues the F.O.S. see across travel insurance websites and examples of what the F.O.S. think are clear/transparent against those that are less clear.
c) examples of the type of things the FOS would expect to see in policy summaries that companies aren't currently providing;
d) comment on whether there is evidence that the industry is learning from any of the common issues that have previously arisen.
Members are being encouraged to provide questions and these, as well as any other matters that could be included as things to address, should please be passed to Kate Huet before the end of December.

Money Box Live: A hazardous year for UK holidaymakers
Our Chair Kate Huet was a guest on the Radio 4 Moneybox programme on 27 July 2016 alongside Bob Atkinson, Travel Supermarket and Sean Tipton, ABTA;
You can listen to the programme via this link

ATII works with UK Foreign and Commonwealth Office
The ATII were invited recently to assist the FCO in the planning of their forthcoming Travel Aware campaign – this is the new name for the original Know Before You Go campaign.
Kate Huet (ATII Chairman) and Carl Carter (Committee Member) went along to put forward our thoughts on July 20th 2016.